---
How to register or purchase tickets
R = registration required $ = paid event
Wednesday, October 2
2019 Alumni Awards
6:30 p.m. ceremony, PAHB
7:30 p.m. reception, PAHB
Join the Alumni Association Board of Directors for our alumni awards ceremony to recognize and celebrate the professional and personal achievements of this year's recipients. Visit alumni.umbc.edu/alumniawards2019 to register for the event and for more information about the awardees. R
Friday, October 4
Black and Gold Fridays
noon – 1 p.m., Commons Breezeway
SHOW US YOUR RETRIEVER FEVER THIS HOMECOMING!
Grab some POPCORN, SNOWCONES, AND SWAG!!
Enter a chance to WIN: 2 Trevor Noah tickets – OCTOBER 4
Homecoming Faculty/Staff Social
4 – 5:30 p.m., The Commons, Skylight Room
Mark your calendars and be prepared to come dressed in your finest black and gold for this year's Faculty & Staff Social. This is more than a social, it's an opportunity to reconnect with campus partners with a view of Erickson field – you won't want to miss it! Every attendee will receive a raffle ticket to be entered to win some great UMBC prizes. Those participating in Showcase Your Spirit will receive an extra raffle ticket for an additional shot at winning. Make sure you stay until the end to qualify for a prize! Participants of Showcase Your Spirit will be recognized at this time. Light hors d'oeuvres and refreshments will be available. Alcoholic beverages will be available for purchase (cash only). Attendees must be a current faculty or staff member and present ID upon entry. Questions? Contact Tsai-Ann Yawching at tsaianny@umbc.edu. For more information and to register, visit myUMBC.
Bonfire
6 – 9 p.m., Erickson Field
Kick off Homecoming 2019 with a campus favorite – the bonfire! Come out to Erickson Field for wings, falafel, giveaways, and UMBC spirit. The bonfire will be lit around 6:45 p.m. This is a free and family-friendly event.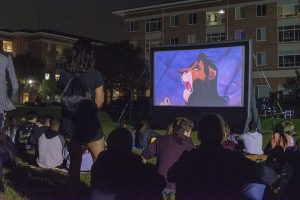 Outdoor Movie – Toy Story 4
9 – 11 p.m., Erickson Field
Stick around after the bonfire for an outdoor screening of Toy Story 4! Free snacks and drinks will be provided. Bring a blanket and sit back, relax, and enjoy the show. (Movie will be shown weather-permitting.)
Saturday, October 5

Men's Swimming and Diving vs. Bucknell
Women's Swimming and Diving vs. Bucknell
1 p.m.,Retriever Activities Center Pool
Cheer on the men's and women's Retriever swimming and diving teams as they take on Bucknell.
A Conversation with Trevor Noah
7 p.m. doors open, 8 p.m. show, Event Center
We're excited to welcome Trevor Noah to campus for an evening of comedy and conversation! Purchase tickets. $

Sunday, October 6
Volleyball vs. University of New Hampshire
1 p.m., Event Center
Cheer on our volleyball team as they take on the University of New Hampshire! Purchase tickets.
Monday, October 7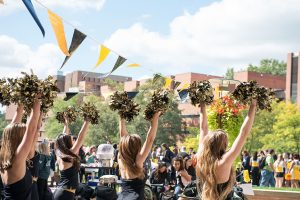 Homecoming Hype
noon – 2 p.m., Terrace
Get your 2019 Homecoming swag! Quantities are limited, so be sure to grab your spot in line so you don't miss out.
Wednesday, October 9
Homecoming Screen Printing
noon, Main Street, The Commons
Come by Mainstreet for a live screenprinting demo and a free canvas bag! This event is first come, first serve – and we always run out quickly.
Thursday, October 10
Talent Show
8 – 10 p.m., Fine Arts Recital Hall
Hosted by comedian Ronnie Jordan, this year's Homecoming Talent Show is sure to delight! Cheer on UMBC students as they perform song, dance, and entertainment sets. Seating is limited, so please arrive early.
Friday, October 11
Men's Lacrosse Alumni Golf Outing
noon registration, 1 p.m. tee off, Compass Pointe Golf Course
Join fellow alumni, family, and friends for a round of golf to support the Retrievers! Lunch will be provided. All proceeds from this event will go to UMBC Men's Lacrosse team. Register now! R, $
Black and Gold Fridays
noon – 1 p.m., Commons Breezeway
SHOW US YOUR RETRIEVER FEVER THIS HOMECOMING!
Grab some POPCORN, SNOWCONES, AND SWAG!!
Enter a chance to WIN: 2 Crab Feast tickets – OCTOBER 11
Men's Basketball Tip Off Event
6 p.m. reception, 7 p.m. dinner and program, Bond Street Wharf
Join us for the Men's Basketball Tip Off Event, presented by Hamel Builders! The reception will open at 6pm, with dinner and the program beginning at 7pm. Contact Liz Frediani at frediani@umbc.edu for questions or more info. Please purchase your tickets by Oct. 2. R, $
Poetry Slam
6 – 8 p.m., Atrium, PAHB
Slam BIG and Win BIG at the seventh annual Poetry Slam hosted by the English Department! A panel of judges will award prizes – including $200 for 1st place – for students and alumni sharing their original work. To participate in the slam, submit a print and video version of original poetry no more than five minutes long to HomecomingSlam@gmail.com. Entries will be judged on their poetic effects, compelling content, and performance. All UMBC students and alumni are eligible to enter. Register Now! R
Block Show
8 – 10 p.m., Fine Arts Recital Hall
Come out and support members of UMBC's National Panhellenic Council and Multicultural Greek Council as they showcase their talents in the Homecoming Block Show. Seating is limited and the show will be begin promptly at 8 p.m.
For the Culture
10 p.m. – 2 a.m., UC Ballroom
Celebrate Homecoming in style with the For the Culture dance party! Enjoy refreshments, a live DJ, and a night of dancing. Bring your student ID (admission is free).
Saturday, October 12
Family and Parent Breakfast
9:30 – 11 a.m., Skylight Room, The Commons
Join us for a Homecoming family breakfast! Meet with other families and members of the campus community to check in on the first few weeks of the fall semester. Breakfast and freebies are on the menu! Tickets are $10 per person, but students with a campus card and children 12 and younger eat free with a purchase of a family ticket. Tickets must be reserved in advance. Purchase your tickets here. R, $
First Lego League Build Event
10 a.m. – 2 p.m., Information Technology and Engineering Building, Room 238
Remember how much fun you had building with Legos as a kid? Wouldn't you love an excuse to build some cool models, and help out hundreds of kids at the same time? If so, do we have the activity for you. UMBC is having a build day to help build kits for the First Lego League Robotics Competition. We have hundreds of really cool, complex models we need to build so that teams of kids in grades 4-8 throughout the state can start competing in this year's challenge, City Shaper We have everything from bridges to cranes to tree and buildings we need to build.  Stop in anytime, we will have pizza around lunch, and most models take around 30-45 minutes to build, and you can build as many as you like. Due to the complexity of some of the models, we welcome adults and children ages 8 and up.
Register now!
Interdisciplinary Life Sciences Building Opening
11:30 a.m., ILSB
Register Now!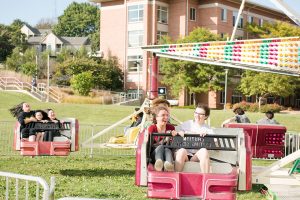 Homecoming Carnival
noon – 8 p.m., Erickson Field
Carnival rides, petting zoo, games, and food trucks, oh my! Bring your friends and family to the Homecoming Carnival for a day of fun. The event is free and $5 (cash only) wristbands for unlimited rides are required for patrons ages 5 and older.
Alumni & Friends Tent
noon – 3:30 p.m., Public Policy Lawn
Join fellow alumni and friends for light refreshments and a beer garden, giveaways, Homecoming t-shirts, learn about alumni association initiatives, and participate in alumni reunions. We'll also have kid-friendly activities and will be featuring a handful of our alumni-owned businesses! Register here. Register now! R
Alumni Affinity Reunions
12:30 – 3:00 p.m, Alumni Tent,Public Policy Lawn
Reconnect with alumni from your student group in our Alumni Tent and in various locations around campus! Stay tuned for affinity groups and locations. Register now! R, $
Residential Life Reunion
12:30  – 1:30 p.m., Alumni Tent,Public Policy Lawn
There's no place like home! Join Residential Life for a family-friendly celebration for the Residential Life community. Reconnect with roommates, neighbors, friends and staff. Reminisce about your time living and/or working in the halls; laugh, joke or even cry "happy" tears! Open to Residential Life alumni, staff, family and friends. Light refreshments will be provided. For questions or more information contact Residential Life at 410-455-2591. Register now! R, $
CWIT/SITE/TSITE/Cyber Scholars Community Reunion
12:30 – 1:30 p.m., Alumni Tent, Public Policy Lawn
The CWIT community has grown to include SITE & TSITE Scholars, Cyber Scholars, CWIT Scholars and affiliates of all types. Join us to reconnect with the CWIT community and learn about the future of the programs. Open to alumni and current students and their families. Register now! R, $
Athletic Alumni Games
12:30 p.m., Women's Lacrosse Alumnae Game – Register
1:45 p.m., Men's Lacrosse Alumni Game
3 p.m. Women's Soccer Alumnae Game – Register
It's Retrievers vs. Alumni! Get a first look at the current UMBC Retrievers women's and men's lacrosse teams, as well as women's soccer, as they take on the alumni in a game-like scrimmage in preparation for the 2019 season.
Women's Basketball Meet & Greet and Open Practice
12:30 p.m., UMBC Arena
INDS 50th
12:30 – 2 p.m., Skylight Room, The Commons
Celebrate the 50th anniversary of the Individualized Study program at UMBC, one of the oldest of its kind in the country. All graduates and current students of Interdisciplinary Studies/Option II are invited to join the INDS staff and faculty to celebrate. Throughout the day we will honor places INDS students have left their mark on campus: UMBC Garden, Kinetic Sculpture, Joseph Beuys Sculpture Garden, and Herbert Run Greenway. All INDS/Option II current students, alumni and their guests are invited to lunch in the Skylight. Register now!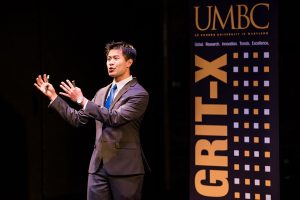 GRIT-X
1 – 3 p.m., ILSB
Back by popular demand, we invite you to listen and learn as some of UMBC's most intriguing faculty and alumni minds enlighten us. Click here for list of speakers and register here. Videos of the GRIT-X talks will be available in the following weeks via UMBCTube. Register now! R
Puppy Parade
1:30 – 2 p.m. Check-in, 2 p.m. Parade, Erickson Field
All well behaved dogs welcome!  Get some swag for your pup and pics with True Grit and Chip!  Chip is the newest member of the UMBC Police Department and is a comfort pup in training.  We will take a walk around Erickson with kick off around 2 p.m. and costume contest immediately following. Register now!
Student Government Association Reunion
2 – 3:00 p.m., Alumni Tent, Public Policy Lawn
Join current officers of the Student Government Association and reunite with former officers for a Homecoming gathering! Learn more about what we're working on this year, as well as the ongoing student-led improvements to campus. Email the Student Government Association at sga@umbc.edu with any questions or concerns! Register now! R, $
Fraternities and Sororities Reunion
2  – 3:00 p.m., Alumni Tent, Public Policy Lawn
Roll call! Come reconnect with your chapters from UMBC and learn about the future of Fraternities and Sororities including new chapters, new programs, and more! Register now! R, $
Honors College Reunion
2 – 4:00 p.m., Lower Flat Tuesdays, The Commons
Reconnect with Honors College friends, and make new ones! Please join the faculty and staff of the Honors College for a family-friendly celebration of the Honors College community. Open to alumni and current students and their families. There will be a craft, door prizes, and refreshments. For questions or more information, email the Honors College at honorscollege@umbc.edu or call 410-455-3720. Register now! R, $
Alpha Kappa Alpha Sorority, Lambda Phi Chapter Reunion
2:30 – 5:30 p.m., Sports Zone, The Commons
We're calling all alumnae members who were initiated in the Lambda Phi chapter to join us for a Homecoming social. The registration fee is $10, and we encourage you to make a minimum donation of $15 to support the Second Generation Scholarship. We also encourage you to attend other Homecoming events, including the Carnival – the more, the merrier! Register now! R, $ 
Men's Basketball Black & Gold Scrimmage
3 p.m., UMBC Arena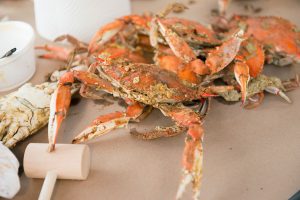 Crab Feast
4:30 – 7 p.m., Alumni Tent, Public Policy Lawn
One of our favorite Homecoming events, the Crab Feast includes an all-you-can-eat buffet with Maryland blue crabs and a cash bar. Buffet includes: crab soup, pit beef, ham & turkey, BBQ chicken, Italian sausage, pulled pork, kielbasa, ziti, corn on the cob, salads, vegan burgers, drinks, and desserts Purchase Tickets! R, $
$60.00 – food + beer/wine
$45.00 – food + non-alcoholic beverages
$25.00 – kids 12 & under
All sales are final. We are unable to provide refunds for any tickets purchased for Homecoming activities. 
Athletics Alumni Social
5 p.m., Soccer Stadium
Reconnect with your fellow UMBC athletics alumni before watching the men's soccer team as they take on the University of New Hampshire in an America East Conference match-up! Your registration includes a ticket to the game, BBQ dinner, alcoholic beverages, and family-friendly activities. Please bring a government-issued ID, as we will have wristbands for all attendees over 21. Register now. R, $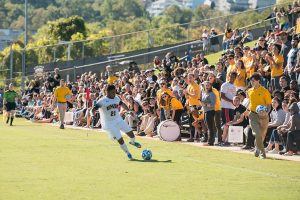 Men's Soccer vs. University of New Hampshire
7 p.m., Retriever Soccer Park
Cheer on our men's soccer team as they take on the University of New Hampshire under the lights in a key America East Conference match-up! We'll also be recognizing the Lou Cantori award winner before the start of the game. There will be fireworks after the conclusion of the game.  Purchase tickets. $
Sunday, October 13
Women's Soccer Alumni Breakfast and Summit
9 a.m., Retriever Room, Event Center
We're excited to offer an alumni weekend that will include a breakfast and summit. The summit is an opportunity for the women's soccer alumni to formally meet the new head coach, hear about the vision of the program, the initiatives we're working on, and to voice their thoughts on their experience as student athletes and what they would like to see for the program. Women's soccer alumni should register for the summit by. Buy tickets. R
Women's Soccer vs. Vermont
1 p.m., Retriever Soccer Park
Cheer on our women's soccer team as they take on Vermont in a key America East Conference match-up! Purchase tickets. $

Jump To: Oct. 2 I Oct. 4 I Oct. 5 I Oct. 6 I Oct. 7 I Oct. 9 I Oct. 10 I Oct. 11 I Oct. 12 I Oct. 13