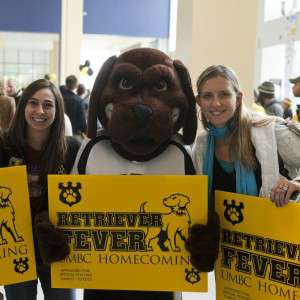 Homecoming will be held October 3-9, 2016 on the UMBC campus. We look forward to seeing you!
MONDAY, OCTOBER 3
Manic Monday: Homecoming Edition
12 p.m. – 1 p.m, The Quad
Stop by The Quad to play games, see student and athletic performances, and participate in activities to win some official Homecoming 2016 gear and grab the full schedule of activities for the week!
TUESDAY, OCTOBER 4
Homecoming Hype
12 p.m. – 2 p.m, Main Street
Get hype for Homecoming! Come hangout on Main Street for a chance to win MORE giveaways like screen prints from commonvision!
WEDNESDAY, OCTOBER 5
Homecoming Bonfire
7 p.m., Erickson Field
Join the campus for this Homecoming tradition!  Get ready for great food, fire, and giveaways.  Exact start time based on our friends in the fire department!
THURSDAY, OCTOBER 6
2016 Alumni Awards Ceremony
6:30 p.m. reception, 7:30 p.m. ceremony
Earl and Darielle Linehan Concert Hall, Performing Arts & Humanities Building
Each year, the UMBC Alumni Association proudly honors distinguished alumni and faculty for their accomplishments and dedication to UMBC. Alumni, students, faculty, staff, and friends of the UMBC community are invited to join us in celebrating the 2016 alumni award winners. Learn more and register.
Women's Soccer vs. UMass Lowell
7 p.m.
Retriever Soccer Park
Talent Show
9 p.m.-11 p.m., University Center Ballroom
Join us as UMBC's talented students take the stage!  Interested in signing up? Email studentevents@umbc.edu by October 3, 2016  for more information. Space is limited!
FRIDAY, OCTOBER 7
Volleyball Game
5 p.m., Retriever Activities Center
Spread some Retriever pride by cheering on the Volleyball team at their game against Albany.
Retriever Rally
9 p.m. – 10 p.m., Retriever Activities Center
Pack the RAC and show your Retriever Pride!  Tons of freebies, food, t-shirts, games, and the introduction of this year's basketball teams. Doors open at 8:30 p.m.
Retriever Dance Marathon
10 p.m. – 2 a.m., University Center Ballroom
Dance to your heart's content! UMBC will be hosting our second annual Retriever Dance Marathon for the kids! #FTK To sign up your team or donate to a team or individual go to http://www.umbcrdm.site/.
SATURDAY, OCTOBER 8
Homecoming Carnival — CANCELLED
1 p.m. – 7 p.m., The Quad
Due to expected inclement weather, the Homecoming Carnival has been cancelled. Please stay tuned here for information on indoor activities being planned for this time.
UMBC Athletic Alumni Pre-Game Gathering
Noon-2:15 p.m.
Giffen Hill
Join your fellow athletic alumni for an afternoon of fun, including free food, drink, and family activities! Catch up with old friends before watching our Men's Soccer Team take on UMass Lowell. Learn more and register.
Men's Soccer vs. UMass Lowell
2:30 p.m.
Retriever Soccer Park
SUNDAY, OCTOBER 9
Women's Volleyball vs. Binghamton
1 p.m.
Retriever Activities Center