Homecoming 2022 registration is now closed. Please feel free to still attend any of the free events listed on our site. While recommended, registration is not required for those events. The 5k, GRIT-X, Donor Breakfast (invite only), and Taste of Maryland will offer limited on-site registration.
Location
Erickson Field
Date & Time
October 7, 2022, 6:30 pm – 8:00 pm
Description
Kick off Homecoming 2022 with a campus favorite - the bonfire! Come out to Erickson Field for give aways and UMBC spirit. The bonfire will be lit around 6:45 p.m. This is a free and...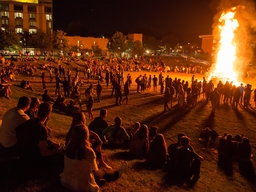 Location
The Commons : Skylight
Date & Time
October 7, 2022, 6:00 pm – 9:00 pm
Description
A new UMBC tradition commences at UMBC's 2022 Homecoming as the annual Athletics' Hall of Fame Inductions moves to the October date on the calendar. The 22nd edition of Retriever Nation's...